Bringing It Black ft Ebony B Salon
When Ebony B reached out to us to come down to their salon to get our hair braided, automatically we thought of our childhood. It was a true moment of Nostalgia as we paused and had a dramatic flash back like That's so Raven. For us, canerows and braids were the done thing when growing up, true to our African heritage but also it was the most convenient thing for our mums to do. Tri's Mum was pretty good at doing fancy styles and Jay's Mum was constantly twisting/plaiting her hair or getting a family friend to canerow her hair.
Tri remembers having the1B synthetic hair and picking up a different coloured packet of hair so she could mix it with the dark browns and blondes. But once she was able to get adventurous with colours that's when the fun began, she had everything from red, blue and even purple...It felt so cool having those braids fall down past her shoulders...and we all know what that long hair syndrome does to your psyche.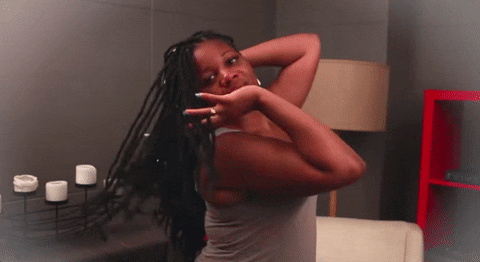 For Jay twists, plaits and canerows were a weekly thing; every Sunday sitting on the floor in front of her Mum, family member or friend and the styling session would begin with magic being incorporated with a comb and some hair grease. Jokes, bonding and time wasn't the only thing woven into this sessions. These women were truly magicians; the styles they created were endless; updos, half up half down, plaits, canerows straight back; even having 'LOVE' written with hearts in her hair in canerow at one point. Every Sunday was something to look forward to.
When we were asked to choose our styles we knew exactly what we wanted to go for. Jay had spotted this sleek, gorgeous hair style on Ebony B's page before and it reminded her of a bun style she had once at school. Tri knew immediately beads were going to be an option, not only does she think this style is bomb but beads were the shizz... Tri still has a stash in her hair box right now. Shout out to Alicia Keys as well for bringing that #BlackGirlMagic when she burst onto the scene with 'Falling' rocking her braids and beads...#RepresentationMatters.
We know you'll agree when we say we're so tired of these culture vultures appropriating our hair styles and acting like it's something new that they've just thought of. We've said it time and time again that if other races want to wear their hair in braids or similar then that's fine, but give credit where credit is due by stating the origin...Do your research.
Appropriators know nothing of the origin of cornrows (dated back further than 500 BC in Africa), the reason behind the style, the reason behind the name...shoot they even try to rename the styles! They know nothing of the Sunday magic sessions, the feeling of the konk of the comb after being told to sit still, the ease of the grease on your scalp, wearing tights/scarves at night to preserve your style for the week, your bum getting numb from sitting on the floor for so long...these are all a part of the experience. The issue of cultural appropriation arises when it's marketed as a 'New trend' or 'Original'. Boxer Braids...Really?
We thought this would be a perfect opportunity to create some content and to also collaborate with Dazhane Leah; an amazing photographer; to stir up the nostalgia as we pay homage to Black women's creativity, style and originality. Our hair is part of our identity, canerows/plaits/braids are part of celebrating our blackness and it's time to reclaim our style.