Black Panther honors Natural Hair
Why is this even a topic? A whole separate article on the hairstyles of Black Panther, really?.... Well we have a question....So when was the last time you watched a movie, featuring dark skinned Black Women in a lead role, rocking natural hair styles hmmm??
Black Panther was everything and more, and it deserves to be celebrated, for Many reasons. Of course the celebration could go on for a while here, so we'll just focus on hair before we run out of space.
I don't know about you but the first thing I wanted to know was 'Who was behind the looks?' And with much delight, it is a Black Woman...Hooray!! Camille Friend Dept Head Hairstylist for Black Panther, and many other films such as Guardians of the Galaxy Vol 2, Detriot, Captain America: Civil War, Hunger Games: Mockingjay 1/2.
With an interview with 'The Cut' Camille goes into detail about processes of creating those fabulous styles, and how she felt working on a Hollywood Blockbuster film that celebrated Natural Hair.
What was the overall creative direction for the hair in Black Panther? There were three parts. For the "traditional" look, we used inspiration from the Zulu tribe, the Maasai tribe, and the Hima tribe. Then we looked at the modern styles in the natural-hair movement. Finally we looked at the Afropunk movement, which has a lot of natural and creative styling. Also, there are five tribes in the story, and we had to create different looks for each tribe.
What was it like working on a movie where everyone was styled in natural hair? There's no press and comb in this movie. No relaxers, no nothing! That was one of the things that I really was firm about. I requested that people come with their natural hair. People were like, "Are you sure?" and I was like, "Yes, I am sure! We have a qualified staff of hair people who are phenomenal and who are well-versed in natural hair."
Read the full interview here
For as long as we can remember, Black Women + Hair = Political. Not only that for years we've been fed the narrative that afro hair is dirty, unkempt, unprofessional and unattractive, And let's be real, this narrative still continues, however what Black Panther done so well was portray these women as beautiful, regal, confident, strong and intelligent all whilst wearing their hair in natural styles.
But not just women, Camille Friend went on to explain Michael B. Jordan's hair with her interview with 'The Cut'.
How did you style Michael B. Jordan's hair? He has dreadlocks. We wanted to give him a look that you've never seen before, and since he is the villain in this story, we wanted him to look strong and bold. He grew out his hair because we didn't know what we wanted to do with his hair, at first. We eventually decided that we wanted to dreadlock it and keep the sides faded and really short. It's a great look and he's really sexy. We added extensions to it, but he did start out with a good amount of hair, and that's why it looks so natural.
Even thought Hair was a focal point for us, it wasn't made to be a focal point in the film, However there was this one scene which we can't forget about. This was a genius moment when Danai Gurira's character Okoye refers to her wig as a 'Disgrace' as she's clearly uncomfortable wearing it. Later on Okoye Flings off the wig in the midst of a spear fight, and throws it in one of their faces as a distraction before dashing him over the balcony. Now if that wasn't a 'Yassss' moment, I don't know what film you was watching.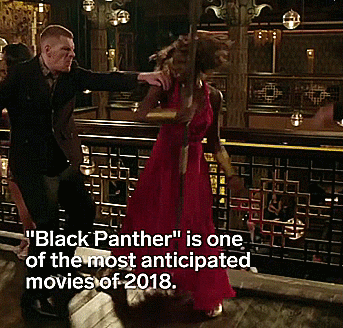 Representation Matters and we're ecstatic that this was thought about. Let's bring about change and encourage others to be proud of their natural beauty.